Wake me up - Avicii
Avicii (1989 - 2018)
Tim Bergling, better known as Avicii, is a Swedish DJ, remixer, and record producer. Avicii is a dance-genre DJ who ranked No. 3 on the Top 100 DJs list by DJ Magazine in 2013, and higher in 2012, coming at No. 3 on the list by the publication.
Influences: Avicii's influences include Tiësto, Daft Punk, Laidback Luke, Eric Prydz, Sebastian Ingrosso, Steve Angello, and Axwell. Said Avicii in April 2011, "I've always been into music, and growing up with older siblings I've also had loads of different influences when it comes to my music taste. There are loads of other people that have influenced me but I think the biggest inspirations I've had aside from my manager has been the Swedish House Mafia guys and Eric Prydz, they were the ones who first got me into house!"
By wikipedia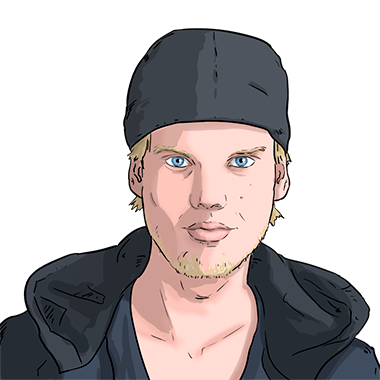 GLOSSARY:
Darkness (n): having little or no light.

Ex: It was impossible to find our way in the

darkness.

Journey (n): a travelling from one place to another; trip or voyage.

Ex: The

journey

from Brighton to London takes an hour.

Be caught up in sth (v): to absorb or involve.

.

Ex: I don't want to

be caught up

in your financial problems.

Over (adj): finished; no longer in progress.

Ex: We left when the film was

over

.

Weight (n): a measure of the heaviness of an object; the amount anything weighs.

Ex: I put on

weight

this summer.