Price tag - Jessie J
JESSIE J (1988 - Present)
Jessica Ellen Cornish (born 27 March 1988), better known by her stage name Jessie J, is an English singer and songwriter. Born and brought up in London, England, she studied at the BRIT School before signing with Gut Records and striking a songwriting deal with Sony/ATV Music Publishing where she wrote for artists including Chris Brown and Miley Cyrus. Citing various influences, Jessie J is recognised for an unconventional musical and performance style that mixes soul vocals with contemporary R&B, pop, electropop, and hip-hop beats. Jessie J has garnered various awards and nominations for contributions to the music industry, including the 2011 Critics' Choice BRIT Award and the BBC's Sound of 2011. As of April 2012, Jessie had sold over 11 million singles and 2.5 million albums, worldwide. "Do what makes you feel good. Remind yourself of what you're good at and make sure you do that."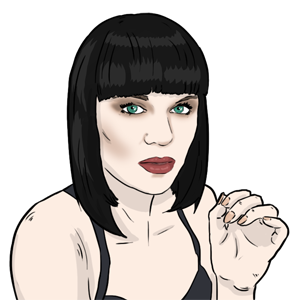 GLOSSARY:
Wonder (v): to think about, to desire to know more about something.

Ex: I

wonder

what came first, the chicken or the egg?

Shades (n) (USA) = sunglasses (UK): accessories used to protect your eyes from the sun.

.

Ex:It was so sunny that it was hard to drive, so I put my

shades

on.

Price tag: a ticket on an item in a shop which indicates how much it costs..

Ex: according to the

price tag

the hat was worth £5 but iI got 50% discount so in the end it was £2.50.

Go back in time: to travel back to a certain point in time that has already passed.

.

Ex: If I could

go back

in time I would study more for this exam!

Low blows: an unnecessary insult or abuse. normally highlighting a person's fault that is already obvious.

Ex: He was laughing to everyone about my spelling. it was a

low blow

because I am dyslexic.

Hoes: females who receive money for sexual favours.

Ex: We didn't like the club because it was full of

hoes

so we left!

Cha-ching: noise symbolising money or the receival of money. Noise of a cash register

.

Ex: A: Here is the £100 I owed you.B:

Cha Ching

!!!

Bling: expensive, ostentatious clothing and jewellery.

Ex:You can tell that he has lots of money because you can see his

bling.

Stack: a pile of something, typically objects that are neatly arranged

.

Ex: He always keeps a

stack

of money in his bed side table.